Gathering people together for your organisation's annual conference is the Rubik's Cube of event organising only there's an awful lot more people involved! So how do you make sure that everything goes well and everyone leaves with good memories?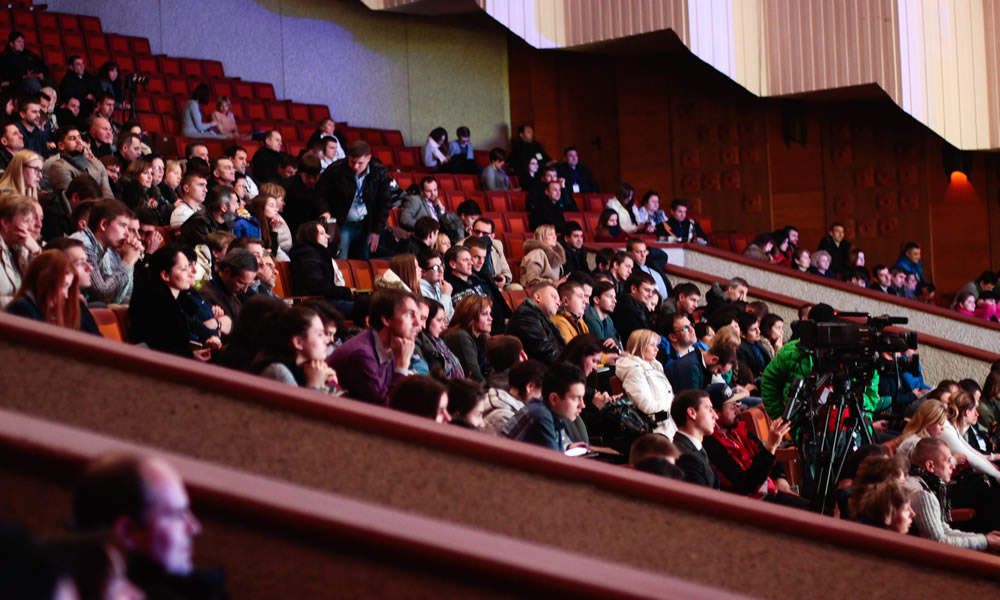 Large scale conferences or multi-day events bring together employees or customers from across your organisation, the country, the continent and possibly, the world. Usually this involves the top people in your organisation making the event both high profile and an important test of your own ability.
How to organise a great Multi-Day Conference
First liaise with the person or team who is in charge of the event and determine the aims and theme. If you don't agree the aims at the outset, there's no way of judging your success. The theme will depend on budget and location and it's best to decide on this at the outset before you start spending money.
The duration of the event will depend on your budget and the programme, and don't forget to include these things in the discussion of initial ideas along with proposed evening activities if it's appropriate. Also take the opportunity to decide whether there will be a formal dinner with dress code and whether there will be entertainment or awards ceremony. Finally, draw up your invitation list.
Decide whether you will need to produce a goodie bag of material to support the conference message and factor this into your budget too.
Draw up a preliminary agenda and work out timings and slots for particular speakers and at this stage, it's going to be flexible whilst you are working on all the other factors like location and audience numbers.
Choose your date carefully - you are never alone
When thinking about dates for the event, bear in mind that you need to avoid big events happening at the same time. You may remember that during the World Cup 2018, there was a train drivers shortage during the England v Croatia match and trying to get your delegates to and from your event would have been difficult during this time even if they weren't too preoccupied by football themselves.
Next, sort out the location. Constraints like availability of public transport will affect your location, as will number of delegates, the ability of the venue to accommodate your seminar room requirements, entertainments and finally cost. As you'll need to deliver within budget, negotiate to get the best deal for your event.
Whilst thinking about the venue, run through your mind how delegates will actually move around between seminar sessions, where they will be able to network, after the main conference speeches, where will they end up when they exit the main room and what will you want to happen to stop delegates from straying too far. Will you need to signpost rooms and activities and how will you do that? Think about emergency exits and how safe your delegates will be in an emergency.
The venue should be able to cater for disabilities by law, and think about having sub-titling during the presentations, sign language to cater for people who have difficulty hearing or an audio loop for those with hearing aids.
That brings me onto risk assessment - what happens if one of your speakers is taken ill before their presentation. Think also about the general well-being of attendees as this can change the mood of your event. There's more on this topic in my blog How to optimise event attendee well-being.
Where to begin with event tech
Then we're onto conference technology. Find out what the venue can offer (and the cost) and work out whether you'll need to hire in any extra tech or whether there's anything that you can use in-house. Brief the speakers on the timings of their allocated slot and get their presentation so that you can liaise with the event tech people to decide what will be needed to produce something that your audience will be able to see and hear. Ask the speakers whether they will produce any accompanying notes or booklets to support the conference and act as a reminder afterwards.
Don't forget to organise a registration system that can handle bookings automatically for you. Remember that the 'free' ones aren't as free as meets the eye as what you are doing when you use one is handing over your delegates' data to become the property of the registration company as payment for the service. It's better to chose one that keeps its data in the UK or EU zone (for GDPR compliance), one where you own the data and can handle bookings and cancellations automatically. It will save you time and energy in the long run. When you've arranged for the registration system, send out invitation emails for your audience to sign up.
Finalise the agenda and timings with your speakers and start gathering up the contents of the goodie bags (if required), printing booklets and make sure that you've got all the presentations. Co-ordinate with the tech people to make sure that the presentations can be delivered with the tech that you've ordered and if not, source suitable machines. Amongst all of this plan and book, if necessary, any entertainments or off-site visits, with transport if required.
Attendee feast or famine - which will it be? Take control before it's too late!
Throughout the registration process, you'll be getting information on number of registrations, speed at which people are signing up and whether your target has been hit. Use this to keep in contact with the company and keep them in the picture of how things are progressing. If they are reassured that things are developing as planned, they will be confident in the end result.
Just prior to the day, make sure that things like badges are printed and if your registration software can print these for you, that's a bit more time saved. Co-ordinate with the venue over dietary requirements and make sure refreshments will be available at rest breaks to keep the delegates going. You'll also need to bring in people to cover the registration period and make sure that they know what to do afterwards - whether off to help direct delegates from one seminar to another or to be on the Help Desk. If your event booking system has a quick and easy check-in desk facility, you'll be able to process the delegates very quickly and be able to transfer them onto the Help Desk if they have any queries. If you keep your welcome team dedicated to booking people in, the crowds won't become unmanageable.
On the day, arrive early, get your registration team in place, make sure the tech works both at the check-in, the conference stage and in any of the seminar rooms. This day will feel like you are herding cats, but with a smile and a good team behind you, it'll be a success.
Make sure that everyone knows who they can report to for problem solving on the day. Ensure that you take rest breaks or sit down for a few minutes and drink enough water to get you through the day. If you are not firing on all cylinders, then you won't be in a position to help anyone.
It's not over until you know you've succeeded
A few days after the conference, send out the feedback form link via email. If you've already got a registration system that has this facility, then your IT supply chain will be a lot easier to manage and one less supplier to work with. Gather up the feedback and assessments and use this to feedback to the company to show the success of the event in achieving their aims. And start planning the next one!