The New Normal For Exhibitions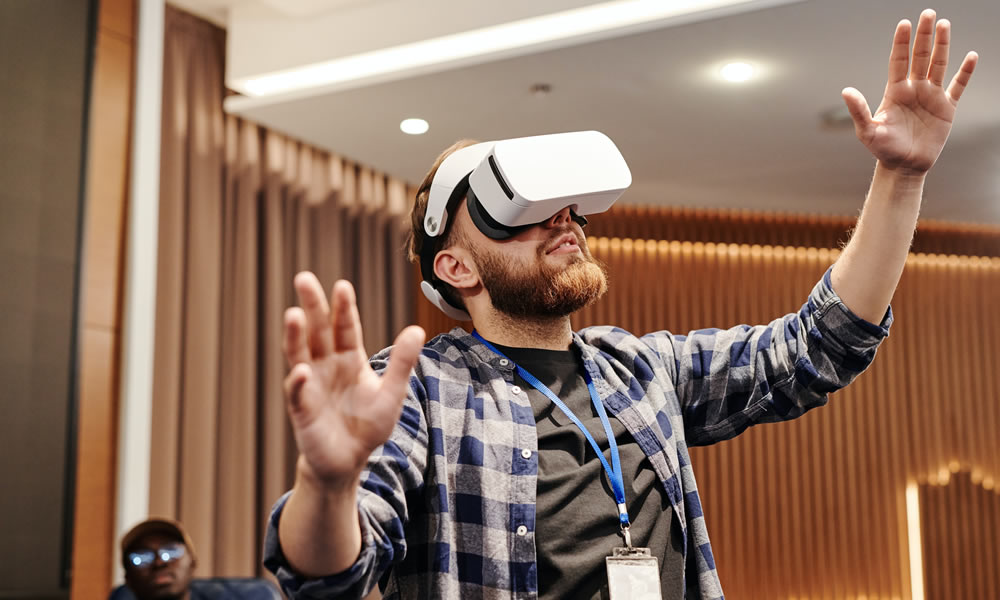 Virtual Reality is fast becoming the new marketing tool for event organisers and is set to be a £600M industry in the coming year. It's useful for event organisers as it allows audiences to experience a product, location or service without having to leave your conference room. So, what can Virtual Reality do for event organisers?
What do we mean by Virtual Reality?
We're more likely to have experienced virtual reality for ourselves through video games, mimicking a real or imagined world but the definition is the creation of a virtual, rather than the actual version of a person, place or object.
The Tech
In order for the VR to work, you need a headset/display and something that will connect you to the internet, be it a computer or phone. The costs of all these things vary and you can start at the expensive end of headsets with Oculus Rift , PlayStation VR or HTC Vive which are wonderful gadgets and cost between £400 and £700 each.  Or at the other end of the viewers like Google Cardboard or Brian May's Owl, both linked to a smart phone.
Why are companies using VR now?
The change has come about because event attendees are now Millennials who've grown up with virtual worlds through their gaming and expect it in other areas of the media. It has become a mainstream activity instead of niche.
Virtual Reality has been used in some amazing product launches. The biggest so far was in February 2016 where Samsung used virtual headsets to launch phones and a camera at Mobile World Congress , Barcelona. It led to a strange image of Mark Zuckerberg walking unnoticed, down a theatre aisle, with the whole audience wearing headsets and oblivious to his presence.
Why is VR successful?
As the headset eliminates any distractions, the viewer is immersed in the experience, increasing the attention paid to the marketing message. The images can have a huge impact and as it's something different, it has the novelty factor as well. The use of VR enables the message to engage with customers, act as a trigger to remember the message and as it's a different way of delivering the message, it's likely that the message will stick.
What does VR do?
It allows you to experience - how do you explain how fantastic your holiday would be, or how you would look in a new pair of glasses, or what a hotel room looks like? VR can show you what it's like to experience these things as well as driving a fast car, playing for a world class sports team or flying a plane. Red Bull has a VR video showing what it's like driving one of their cars.  How could you use these experiences in your event?
It allows you to entertain – virtual worlds are where I started. Could you use this way of telling your story to make your event appealing?
It allows you educate – VR can take you to places that may be dangerous or inaccessible. You can take your audience to the production process of your product. It's a 'behind the scenes' view, personal to the audience. The Unicef video shows the impact of life in a refugee camp and how VR can educate the public.
It allows you to have product loyalty – VR viewers could be branded and used to envelop your audience as in Topshop's fashion show.
Why is VR appealing?
VR has advantages as it can be used to deliver a consistent marketing message to multiple groups of delegates; just plug and play. No need for speakers to stick to the script, with images and animations adding reinforcement. If you are delivering a message to multiple locations on separate occasions, VR maintains the consistency of that message.
VR can take the audience to various exciting and perhaps dangerous situations to engage them whilst not coming to any harm. Exciting footage and engaging action encourages audience engagement, developing a link between audience and marketing message.
The isolation created by the headsets and inability to interact with other members of the audience delivers a huge impact. The brain remembers locations quite well and so the link you create between your message and the locations in your VR piece make your message memorable where others may not be. And everyone wants longevity.
Virtual Reality means that your audience no longer need to travel to your event to participate. If participants have a headset, an internet connection and the time, your audience can have the same message and experience enjoyed by them if they are in London, Tokyo, Paris, New York. You have control over the message wherever they are.
I find it both scary and exciting. The image of Mark Zuckerberg at Mobile World Congress , Barcelona without a VR headset amongst an audience of VR users shows how isolating the technology can be. But it is a really useful tool to enhance and engage your audience. It will give them a memorable experience, consistent throughout the number of times that it's used and a link with your product or service that they will remember. It enables people away from the event to experience what's being seen actually in the auditorium, so your message is the same wherever your audience happens to be.
References: