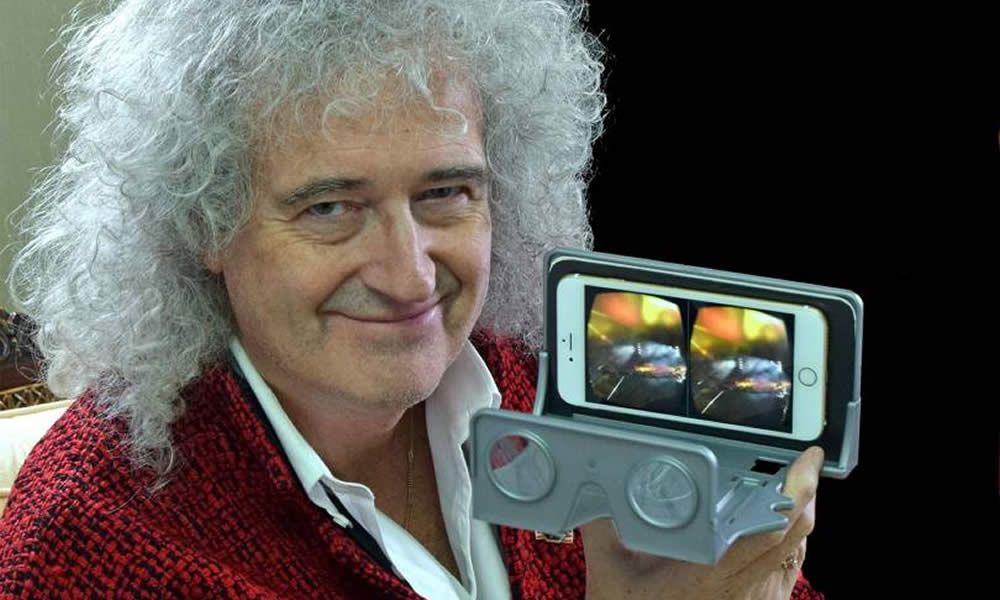 It might seem an unlikely marriage, that of Brian May , celebrated Queen guitarist and astrophysicist, and Virtual Reality (VR) smartphone viewers, but, what you might not know is ...
...that he's very interested in Victorian stereoscope technology.
The Victorians were way ahead of their time
Back in the 19th century, stereoscope technology allowed a viewer to look at photographs in 3D for the first time. At a time when images were flat, photography was in its infancy and TV and suchlike technologies hadn't been invented, 3D images were a very big deal.
There is an obvious crossover with modern day technological developments. The VR viewer is translating the Victorian technology into a modern day device.
Fast forward to now
The more expensive VR headsets are just that; strapped to your head, with enclosed viewing, able to see in 3D and 360 viewing, but isolating the user from the outside world.
Examples of this type of kit are Oculus Rift , PlayStation VR or HTC Vive which cost between £400 and £700 each.
The holy grail is to find a product that's competitively priced to expand the market and durable enough to last the distance. Google Cardboard has had a go and now Brian May's brought his experience to design the Owl .
Owl be seeing you now
The Owl is designed to fit any smartphone with access maintained to the phone's controls; something that other viewers don't allow. And it has a polypropylene frame to give it better longevity than other VR viewers.
These innovations are bringing down the cost of VR to event organisers and start to bring the use of these devices in to practical reality for more events.
References:
Image courtesy of London Stereoscopic Company