12 Days Of Christmas Traditions 2021
Christmas And Its Traditions Around The World - How Much Do You Know About How Others Celebrate This Festive Time Of The Year?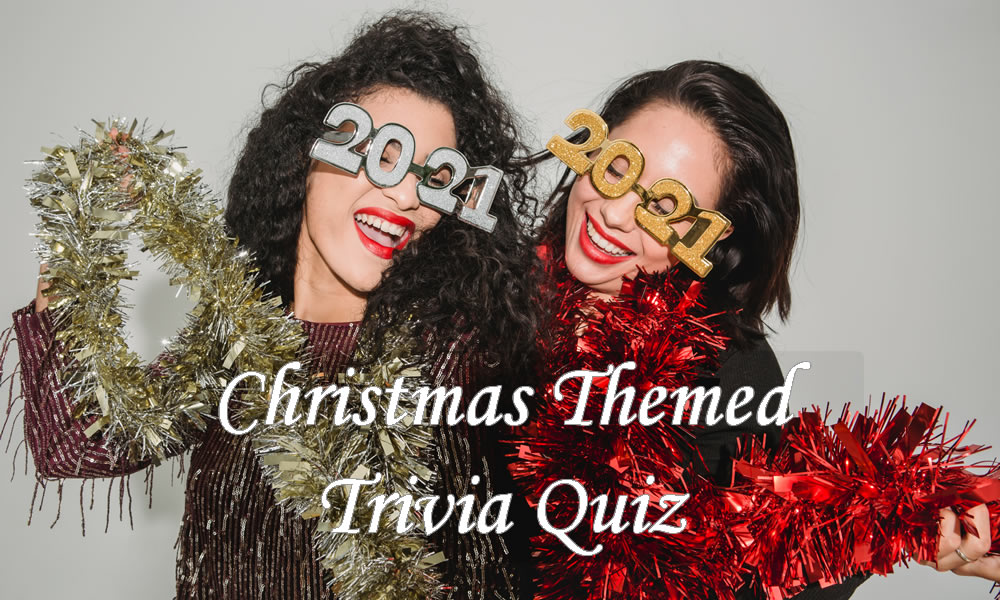 Christmas General Knowledge Quiz
Once again we're delving in to trivia for a few minutes break, why not see how many correct answers you and your friends/colleagues can find tucked away in the back of your mind?
If you like this, you can still play my 2020 Christmas themed quiz.
Quiz: 12 Days of Christmas Traditions 2021
Day 1
Question: Which country started the tradition of a Christmas Tree, decorated and brought into the house?
Norway
Spain
Germany
Answer: C. Germany. It was a tradition started in the 16th century when decorated trees were brought into the home.
Day 2
Question: How many gifts were given in total in The Twelve Days of Christmas?
144
204
364
Answer: C. 364, one for each day of the year except for Christmas!
1 Partridge in a pear tree x12 days + 2x11 + 3x10 + 4x9 + 5x8 + 6x7 + 7x6 + 8x5 + 9x4 + 10x3 + 11x2 + 12 Drummers Drumming
Day 3
Question: In which year was the first Christmas card sent
1743
1843
1943
Answer: B. 1843. The card was designed by John Callcott Horsley for Henry Cole to replace the traditional Christmas letters that people sent each other at the time. He wanted to save himself time by sending a card instead!
Day 4
Question: Which country traditionally hosts the Boxing Day Cricket Test Match?
Pakistan
India
Australia
Answer: C. Australia. It started in the 1974 series because they had to squeeze in an extra match before the New Year and it was played on Boxing Day.
Day 5
Question: What do Icelanders do to avoid being eaten by the huge and vicious Yule Cat?
Lock their doors
Go to bed before midnight
Get new clothes
Answer: C. In the Dark Ages, wool production was the only way of earning a living and each family member had to participate. Woolen clothes were all the family could afford as gifts and to make sure that everyone finished their work on time for Christmas, there was a legend that the Yule Cat would eat them if they didn't have new clothes.
Day 6
Question: What is an Italian equivalent of a Christmas cake called?
Stollen
Panettone
Pan de Pascua
Answer: B. Panettone is thought to have originated in Milan and makes a wonderful bread and butter pudding when you've eaten enough of it.
Day 7
Question: What are turkeys called in Turkey?
Hindi
Bindi
Mindi
Answer: A. Hindi. Because of the Ottoman influence at the time of the bird's discovery, probably in Mexico by the Spanish, it was called a Turkish-cock, shortened later to Turkey.
Day 8
Question: Mince pies originally contained what?
Mutton
A sixpence
Holly
Answer: A. Mutton as the original mince pies were savoury and mixing meat with spices, fruit and a preserving liquid was a good way of preserving it.
Day 9
Question: When is St Stephen's Day?
Christmas Eve
Christmas Day
Boxing Day
Answer: C. Boxing Day. He was a saint who was a Christian deacon in Jerusalem.
Day 10
Question: From which country does the Netherland's Sinterklaas travel to arrive on 5th November?
Madrid, Spain
Vienna, Austria
Paris, France
Answer: A. Madrid and it's a most important day for Dutch children as Sinterklaas brings sweets!
Day 11
Question: Since 1966, a 13 metre tall Yule Goat has been built in which country for Advent?
Sweden
Norway
Denmark
Answer: A. Sweden. The Yule Goat traditionally helps to hand out presents but in Gavle (pronounced yeah-vleh) someone always tries to burn it down. The goat has successfully been burnt down 35 times before Christmas.
Day 12
Question: In German speaking countries, an English short film is famously watched on New Year's Day, what is it called?
Dinner for One
Lunch for Two
Supper for Three
Answer: A. Dinner for One. It's a 1963, black and white film that is a short comedy staring May Warden and Freddie Frinton.