Events In 2021 Quiz
2021 Has 'Zoomed' By, But How Much Can You Remember About Events During The Year? Our Trivia Quiz Will Remind You Of Some Of The Big And Not-so-big Stories That Hit The Headlines This Year.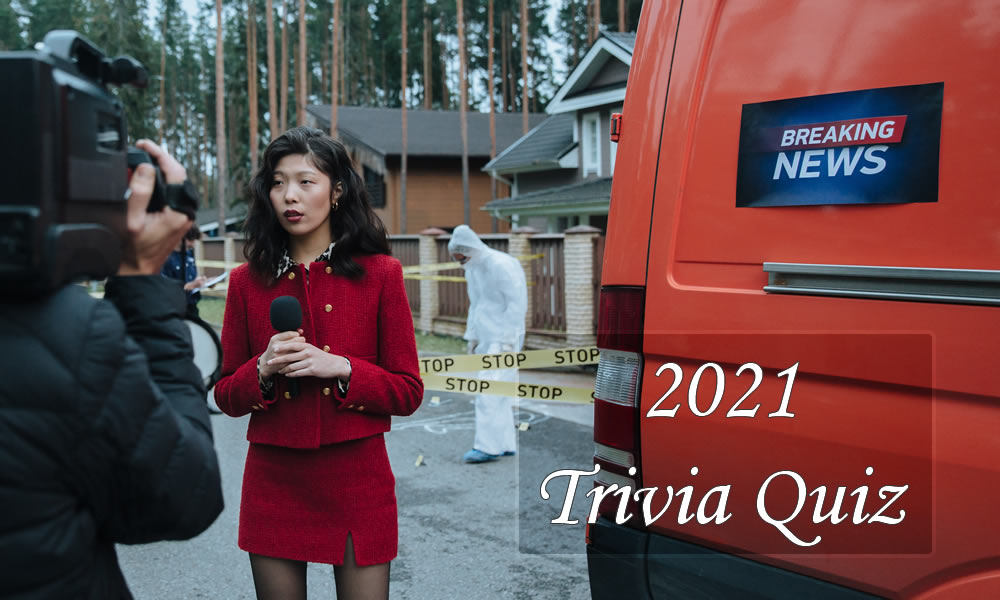 Quiz of events from 2021
Back by popular demand and following on from my 2020 trivia quiz, here are another 12 topical trivia questions from events in 2021. Twelve brand new questions in this interactive version of the quiz I've used in network meetings this year. You can play by yourself or with your friends/colleagues. Answers revealed at the end.
A quick interlude in your next Zoom/Teams meeting perhaps?
If you like this, try my other interactive quizes.
Quiz: Events in 2021 Quiz
January 2020
Question: Brian Pinker made history in January, what did he do?
He fell into the fountain in Trafalgar Square at midnight
He won the PDC World Darts Championship
He received the first dose of the Oxford Astra Zenica vaccine
Answer: C. At 82, Brian was the first person to receive the Oxford AstraZenica vaccine at the Churchill Hospital, Oxford. He said that "I am so please to be getting the Covid vaccine today and really proud that it is one that was invented in Oxford...".
February 2020
Question: In February 2021, Frank Rothwell became the oldest man to do what?
His clothes were shown in the National Gallery as part of London Fashion Week 2021
Row the Atlantic solo
His car was blown away in Kent during storm Darcy
Answer: B. At 70, Frank Rothwell was the oldest man to complete the solo Atlantic crossing, leaving the Canary Islands in December 2020 and arriving in Antigua in February 2021. He raised £1m for dementia research.
March 2020
Question: Who was interviewed by Oprah Winfrey with the programme shown on ITV on 12 March 2021?
Duke and Duchess of Gloucester
Duke and Duchess of Kent
Duke and Duchess of Sussex
Answer: C. The interview between the Duke and Duchess of Sussex and Oprah Winfrey drew a viewing audience of 11.3 million.
April 2020
Question: In April, it was Colin v Cuthbert. Who/what were they?
Cakes
Pets owned by Elton John & Rod Stewart
Cars
Answer: A. Cakes. Colin the Caterpillar was produced by M&S from 1990 and took offence with Aldi producing a copyright infringing cake called Cuthbert. Not only are there Colins and Cuthberts, but also Curly (Tesco), Clyde (Asda), Cecil (Waitrose) and Wiggles (Sainsbury).
May 2020
Question: In May, Alisson Becker did something unusual on the football pitch, what was it?
He wore his t-shirt on back to front without noticing
He played in a tutu for Breast Cancer Week
He scored a goal with a header
Answer: C. The Brazilian is a goalkeeper and scored a goal in 95th minute for Liverpool and earned himself Liverpool's Goal of the Season 2020-21.
June 2020
Question: The G7 took place in which English county?
Devon
Hampshire
Cornwall
Answer: C. Cornwall, it was held in Carbis Bay near St. Ives.
July 2020
Question: What did Jeff Bezos do in July?
He married his new girlfriend, Lauren Sanchez
He went into space in Blue Origin
He went undercover and worked in an Amazon warehouse for a day
Answer: B. He went into space in Blue Origin however he did not qualify to become an astronaut as the Federal Aviation Administration changed the rules.
August 2020
Question: In August, faulty bascules affected a famous London landmark, which one was it?
Tower Bridge
The Tower of London
The Palace of Westminster
Answer: A. Tower Bridge, it was the most complicated bascule bridge for the time when it opened in 1886. A bascule is the part of the bridge that can be raised and lowered using counterweights.
September 2020
Question: Sarah Harding who died in September, was a singer in which pop group?
The Bangles
Girls Aloud
The Spice Girls
Answer: B. Girls Aloud. The group originated from an ITV show called Popstars and Sarah was a member along with Kimberley Walsh, Nadine Coyle, Cheryl Tweedy and Nicola Roberts.
October 2020
Question: What did Andy Murray lose when preparing for the Indian Wells, California, tennis tournament?
His wedding ring
His car
His entry pass to the tournament grounds
Answer: A. His wedding ring, it was tied to his trainers which were stolen and then found in the Lost Property Office at the hotel. He was quite relieved to get it back.
November 2020
Question: Rory Cellan-Jones, a former BBC Tech correspondent, has a pet called Cabbage, which was stolen in November. What is Cabbage?
A pet tortoise
A pet cat
A pet dog
Answer: C. Cabbage was stolen, along with other dogs, when a criminal stole the dog walker's van.
December 2020
Question: The inventor of MTV died in December, who was he?
Stephen Sondheim
Virgil Abloh
Mike Nesmith
Answer: C. Mike Nesmith. Not only was he a member of the Monkeys but his company also produced a show called 'Pop Clips' a forerunner of MTV